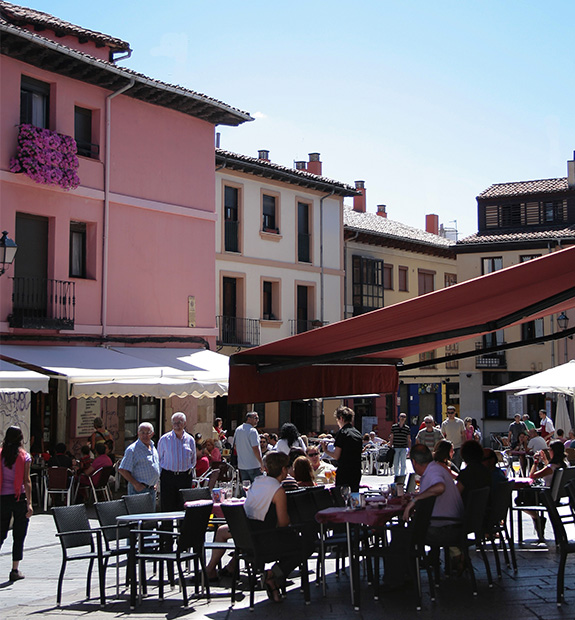 A district made to delight the senses, the Barrio Húmedo is home to the essence of Leon. The weight of tradition can be felt in the old shop fronts, in the web of streets whose names are a testimony to the medieval guilds who worked there, and in the infinite number of bars and restaurants that have given the district its name. The local custom of tapas (small snacks served with every drink) here takes on almost religious dimensions. The Barrio Húmedo is a place not to be missed.
The history of Leon, a very human city, full of culture and made for walking, is encapsulated in the Calle Ancha, one of the most beautiful streets in the city. A testimony to local hard work and talent, seen in the 19th century buildings that still do business there.
Every corner has its own myths and legends. An example is the Palace of Conde Luna. The aristocratic town house was used by the tribunal of the Inquisition, and was completely refurbished to become an office of the University of Washington and the Kingdom of Leon Interpretation Centre. Then you enter a medieval maze of streets that are monuments in themselves. Here you can see the Church of Palat de Rey, commissioned by Ramiro II as a place where for his daughter could become a nun. It has borne the passage of time with colours and is now home to a modern exhibition space.
Walking through the Barrio Húmedo is like leafing through a history book. The yesterday and today of Leon is more than evident in the Plaza Mayor, with one side occupied by the old Town Hall building. This ancient space has been a centre for local citizens for centuries, and has also been home to the local market held on Wednesdays and Saturdays since 1660. Nearby, the Church of San Martín is escorted by a fountain built in 1801. The church itself contains treasures such as the Pietá by Luis Salvador Carmona.
The Plaza de San Martín is the focal point of the Barrio Húmedo, an area with a bohemian touch, full of bars and restaurants where local life finds its maximum expression. The emblem of the area is the Casa de las Carnicerías, a 16th century building once used by local meat suppliers.
Nothing is too far away in Leon, and so the next stop is the Palace of Don Gutierre. At one end of the Calle de la Rúa, the old Rúa de los Francos, you can see the Convent of the Concepcionistas, a haven of meditation and prayer for centuries. The nearby Church of the Mercado has a similar spirit. Behind, the Plaza del Grano is full of the discrete charm of vernacular architecture in the stonework, the stone crucifix, the fountain and the Convent of the Carbajalas.