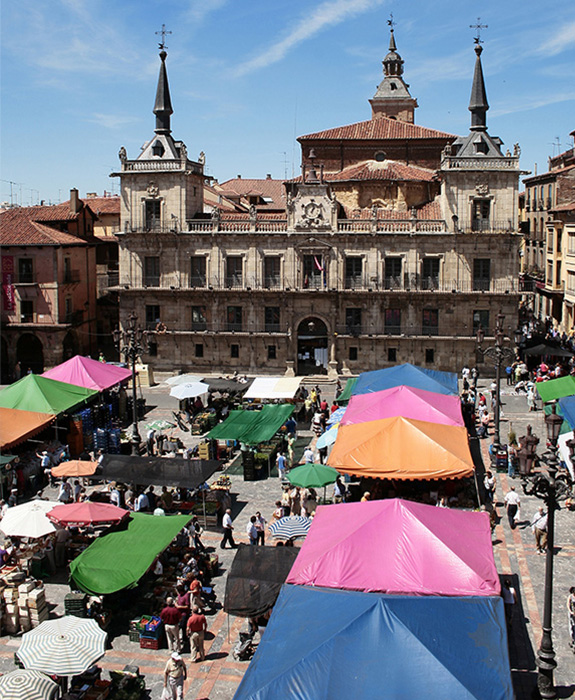 Leon's historical streets and new spaces offers a wide range of products for all tastes: modern, classical, where local commerce has developed and grown over the centuries.
Some of the routes marked out by the old Roman camp and that are the basis of the street map of the city are now major commercial hubs where the city's history can be found in shops with handicrafts and old crafts, and new stores that provide shoppers with a wide range of products.
Many of the names of the streets in the old quarter of the city came from the trades that were most commonly practiced there: blacksmiths, jet workers, silversmiths, cobblers, etc. Nearly all of the them maintain the charm of those times when the city walls surrounded Leon.
One of the outcomes of this long-standing tradition of commerce is that when you go shopping in Leon, you are sure to find typical products of exceptional quality, both in handmade products and a wide variety of fresh product on sale at the street markets held in different parts of the city, such as the Mercado del Conde Luna in the square of the same name located in the old quarter, next to the 14th century Palacio de Conde Luna.
All this makes Leon a reference point in terms of innovation and history in commerce and shopping in the city.
Markets selling local farm produce in the Plaza Mayor, Wednesdays and Saturdays from 10.00 to 14.00.
Open market at the Plaza de Colón, Tuesday and Friday from 10.00 to 14.00.
Antiques Market in the Barrio del Mercado, Calle Fernández Cadorniga and Plaza Don Gutierre. Saturdays from 10.00 to 14.00.
Sunday flea market at the Paseo de Papalaguinda from 10.00 to 14.30.