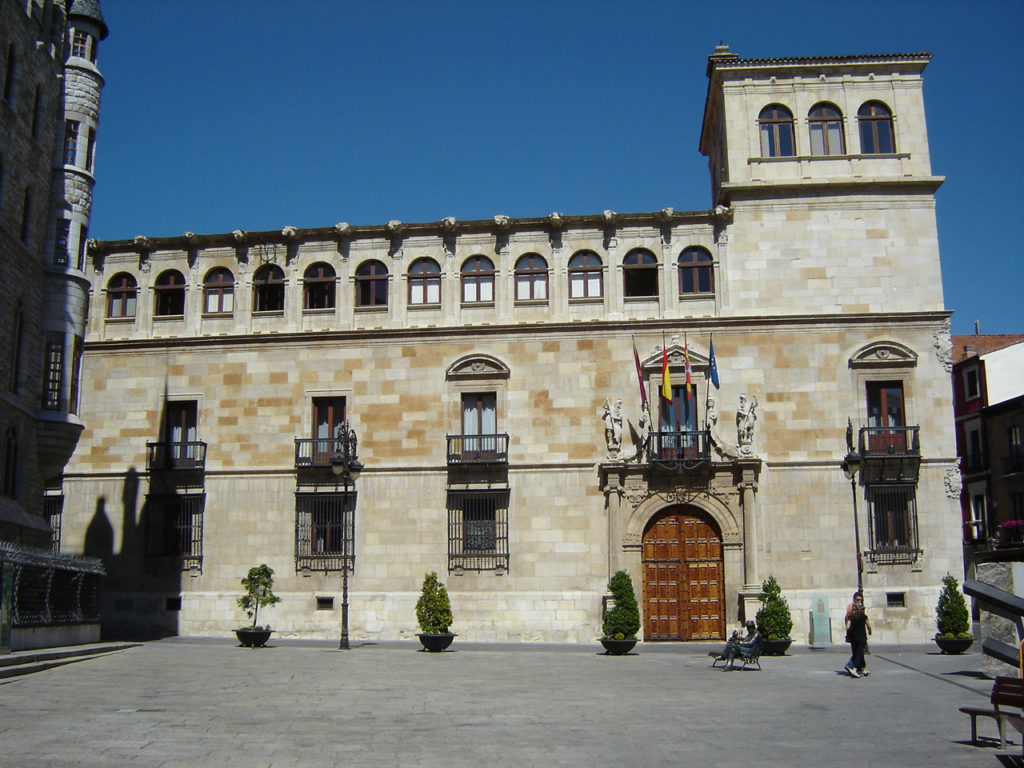 This palace, one of the best examples of palace architecture of the Spanish Renaissance, is attributed to the architect Rodrigo Gil de Hontañón. The building work was directed by his apprentice, Juan del Ribero Rada, who would later make his home in the city and go on to design some famous buildings of his own. Building commenced in 1577, and was not completed until the 17th century. The work was commissioned by Ramiro Núñez de Guzmán, and was continued by his son Juan de Quiñones y Guzmán, Bishop of Calahorra.
The main facade follows the design of the palace of Monterrey in Salamanca. Three sections can be seen: a lower level with barred windows, the main floor with balconies covered with gables and the top level with a continuous gallery. The towers at the ends complete the building. The patio has twin arches, the lower with Roman arches on Ionic columns and the upper ones Tuscan arches on Corinthian columns; there are parapets between them with the family coats of arms. The hallway and stairway are also worth seeing.
The building was acquired in 1882 by the regional government of Leon, and is now the main government building. The government made major changes between 1973 and 1977, extending the building and completing the layout in accordance with the Renaissance design.
Tarifas
Normal visit (20 'duration): € 2

Special visit (50 'duration): € 3

Reduced rates (educational centers, youth card, ...) € 2 and € 1 respectively
Address:  Plaza de San Marcelo nº 6, León
Phone:  (+34) 987 292 101 / (+34) 987 292 146