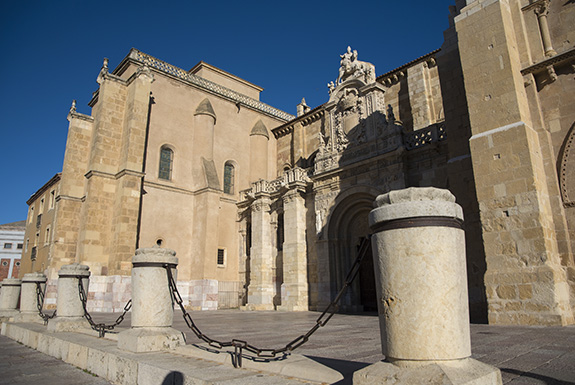 The most important Romanesque building in Spain, a synthesis of styles ranging from Romanesque to Baroque. Commissioned by King Fernando and Queen Sancha, it was home to an important school of ivory, jet and gold workers.
BACKGROUND
A 9th century church dedicated to St. John the Baptist, built on the site of a Roman temple dedicated to Mercury. After the transfer of the remains of the child martyr St. Pelagius from Cordoba, the patron of the church was changed. It was destroyed by Almanzor and later rebuilt in brick and cheap materials by King Alfonso, "the King of Good Laws". Fernando and Sancha (11th. c.) later commissioned Petrus Deustamben to build the new church.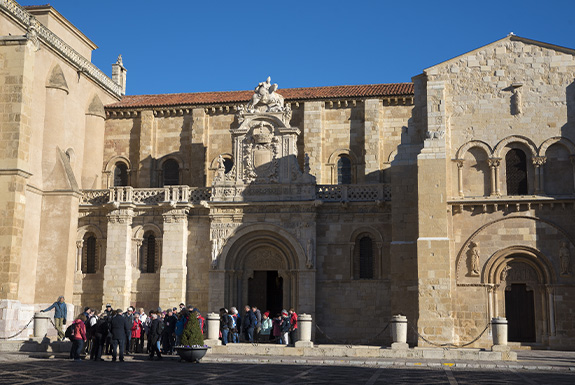 FACADE
Main Door: Puerta del Cordero (the Door of the Lamb), Romanesque style, flared with three columns and three spiral arches. The tympanum shows the Ascension with two angels of the Lamb holding the cross with one leg. One of its features is the rule of adaptation to the frame. It also shows the Sacrifice of Isaac, since the first tympanum shows several scenes. The intrados consists of geometric shapes, while the arch is bordered with a checkerboard pattern. The right-hand side shows an image of St. Pelagius, taken from the previous church. On the left there is an image of San Isidoro de Sevilla, Doctor of Spain and scenes of King David and the Musicians.
Coat of Arms: Baroque (18th c.), made by the Valladolid family. The crest shows the Royal Shield of Spain with an equestrian statue of San Isidro, conqueror of Real de Baeza.
Door of Forgiveness: situated on the gable of the south transept, the carving is the work of the master builder Esteban, who would go on to work at the Cathedral of Santiago de Compostela. The tympanum has three relieves: The Descent from the Cross, Three Maries before the Sepulchre and the Ascension.
Door of the Quiñones: visible from the interior, by the Maestro de las Serpientes. Characterised by marble columns with capitals and a tympanum with checkerboard bordering.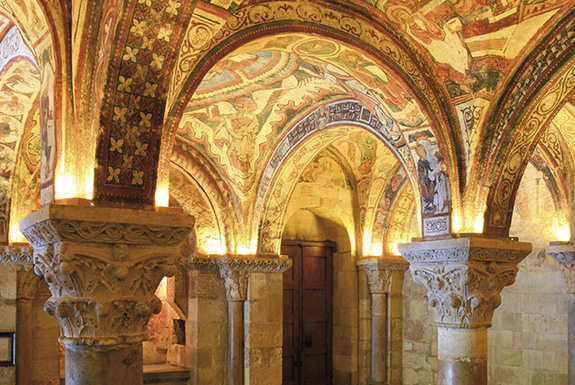 INTERIOR
Three naves at different heights, the central one is the highest and covered with a barrel vault while the lateral naves are covered with cross vaults.
Transept: multifoil arches influenced by Moslem architecture, with side apses covered by half domes.
Central Chapel: in the Spanish-Flemish style, by Juan de Badajoz el Viejo, covered with a star vault, at the base of the 15th century choir. There are a total of two hundred capitals with a wide range of subjects: burlesque, plants, biblical, daily life.
Main chapel: Altarpiece made up to twenty-four Renaissance panels, by Maestro Pozuelo, Custody, by García Crespo and Urn of San Isidoro, by Rebollo.