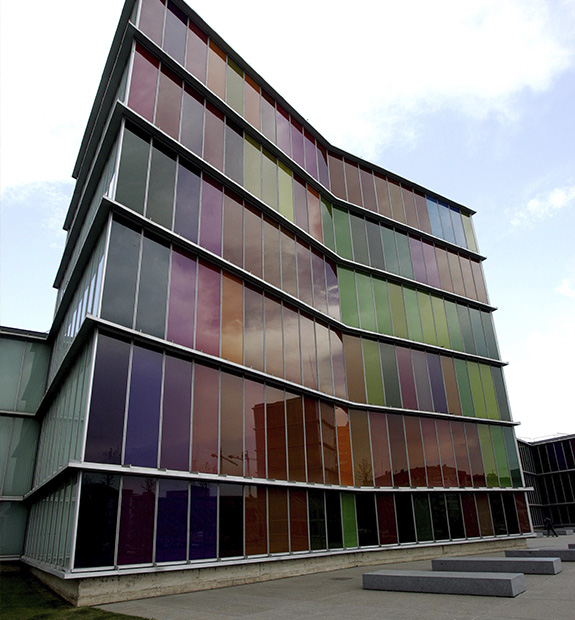 The Museum of Modern Art of Castile and Leon sets out to be an essential tool in developing public interest in modern art and culture. The MUSAC is defined as an open space to all citizens for thought, dialogue and sharing to enable greater analysis and proposals for art and its relationship with society as a whole through the MUSAC collection and programming.
The building was inaugurated on 1 April 2005, after three years construction, and was designed by Emilio Tuñón Álvarez and Luis Moreno Mansilla, who were also responsible for the design of the Auditorium Ciudad de León. The feeling of movement in the layout of the building contrasts with the subtle nature of the facade, made up of more than 3,351 panes of STADIP glass (2,719 of which are translucent), held up by five hundred iron beams. The glass mosaic of 37 colours that receives the visitor on the main facade was taken from digital processing of an image from the stained-glass window called "The Falconer" in the Cathedral of Leon. The window is one of the oldest (13th c.) and depicts scenes from a hunt. This image in the museum sets out to evoke the heritage of the city of Leon, while also emphasising the modern character and spirit of the cathedral.
The concave exterior, contained within large coloured panes of glass, is used for activities and meetings. The large interior spaces, which are continuous but different, with patios and large skylights throughout the area, give shape to a unique and original mode of expression were art and architecture merge together.
According to the architects, "the aim of the MUSAC building, as one single space built with white concrete walls and large external panes of coloured glass, is to be a space where art can feel comfortable and where the frontiers between the private and public, between work and pleasure, and of course, between art and life, can be erased".
In 2007 it received the EU Mies Van der Rohe Award for Modern Architecture.
The MUSAC is now an essential feature of modern art in Castile and Leon, and works to establish close relationships between local artists and international trends.
OPENING TIMES
Tuesday to Friday

:


    

Morning:

10:00 to 14:00

h

.


    

Afternoon:

from 17:00 to 20:00

h

.

 

Saturday and Sunday:


    

Morning:

11:00 to 15:00


    

Evening:

17:00 to 21:00
ENTRANCE FEES
General : 5€
Reduced : 2€ (students under 25, Over 65, ...)
Sunday afternoon free
CONTACT
Address: Avenida de los Reyes Leoneses, 24 León 24008
Tel.: +34 987 090 000
Fax: +34 987 091 111
Website: www.musac.es
E-mail: musac@musac.es
Address: Avenida de los Reyes Leoneses, 24 León 24008
Phone: 987 090 000
Fax: 987 091 111
Website: www.musac.es
Email: musac@musac.es