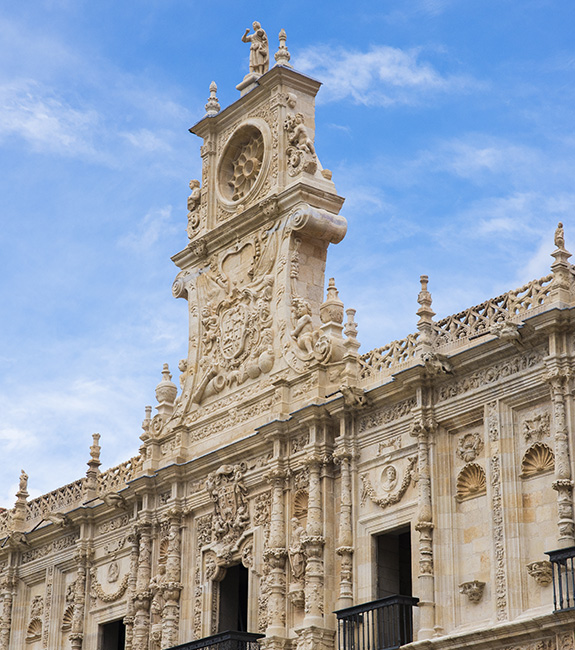 When it was founded, the Museum of Leon was housed in San Marcos. Now that the museum is based in another building in the centre, the beautiful rooms that make up this building are home to its very own interpretation centre. The huge monastic complex of San Marcos de León, located at the natural exit of the city towards Santiago de Compostela, was the headquarters of the Order of the Knights of Saint James for the Kingdom of Leon and represents the best example of Renaissance art in the province.
The architectural style belies the fact that the building's origins go back to the Middle Ages (of which nothing remains), and the Renaissance appearance of the building dates to the 18th century. The building underwent many changes during the construction of the Parador in the 1960s.
The immense facade is covered with highly ornamented decoration and classical reliefs: It includes some excellent sculptural work by the likes of artists such as Juni. Other additions were also made on two different occasions: the eastern part was added in the early 16th c. while the side facing the river was built in the early 18th c. as the images of the royal family clearly show.
The church is an excellent example of the "Catholic Monarchs style" (late Spanish Gothic)
Documents associated with the museum: Museum of San Marcos
OPENING TIMES
October 1 - June 30
L Closed M-X-J-F-S (Mornings) 10:00 - 14:00
M-X-J-F-S (Afternoons) 16:00 - 19: 00h
Sun and Holidays 10:30 - 14:30
July 1 - September 30
L Closed M-X-J-F-S (Mornings) 10:00 - 14:00
M-X-J-F-S (Afternoons) 17:00 - 20: 00h
Sun and Holidays
10:00 - 14:00
Contact
Address: Plaza de San Marcos s/n, 24001-León
Tel.: +34 987245061 (sede del museo: +34 987236405)
Fax: +34 987221602
Website: http://www.museodeleon.com/cgi-bin/zdoc30/media.pl?c=100140
E-mail: museo.leon@jcyl.es