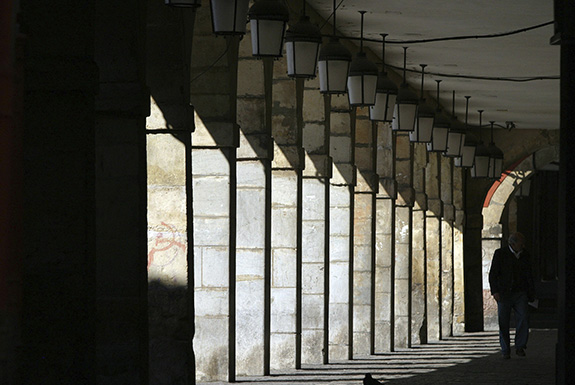 The Plaza Mayor of Leon (Main Square) was built on one of the first and most important medieval marketplaces of the city, near the church of San Martín.
The plaza you can see today was built after a fire in the mid-17th c. that started in the old market, and construction took twenty years. The covered arcade in the plaza consists of arches on stone columns with buildings of two floors above. The first floor has continuous balconies, while the second floor has separate ones. The only part of the plaza where this sequence is not followed is at "El Mirador" (The Viewpoint).
The Plaza Mayor is one of the best in Spain. It conserves the essential spirit and character of the period thanks to the fact that it has undergone very little in the way of alterations, making it one of the most representative 17th century plazas in the country, despite being not being one of the mast famous.
A market is held on Wednesdays and Saturdays, with temporary stalls that sell a wide range of fruit, vegetables and other produce, along with stalls selling smoked and cured meats, cheese and cod. From July to December an area is provided for the direct sale of market garden produce grown by local producers.
Behind the market is the old Town Hall, known as the Balcony or Viewpoint, since local citizens watched all kinds of events from the balcony. Here was a place to buy and sell, pass laws, participate in bullfights….
Life passes calmly between the solid columns, while shops and the markets with all its colours, held since 1660, is a summary of the and present of a city that knows how to show off its good taste.